---
Chief Performance specializes in the fabrication, sales and service of custom performance engines from 300 HP - 1425 HP and in the innovation of marine endurance power packages. Our 5000 square foot facility, adjacent to the Fort Lauderdale international airport accommodates complete boat rebuilds, repowering, custom installations, multiple engine installations, custom graphic design, race rigging, and race team support; not to mention ease in national and worldwide shipping and travel.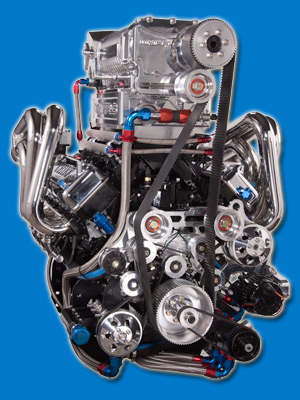 Models are available naturally aspirated, supercharged, turbocharged, or fuel injected. Chief Performance designs are based on the horsepower per cubic inch ratio which allows the development of specific engine characteristics for specific applications; as a result, each combination is pre-proven for endurance and reliability. Chief Performance' experience in performance, marine engines enables the capture of World Championships and this same precision craftsmanship and knowledge proceeds into the design of our pleasure power packages.
Our custom drive service meets the needs for all outdrives, transmissions, crashboxes, and drive train upgrades. For example, Bravo drives are upgraded with larger bearings, cone clutches and nitrided shafts; Borg Waner transmissions are upgraded with 8-13 forward clutch packs and race speedmasters are upgraded with state of the art lubricating and cooling techniques. All the power train components combined push us to victory.
Chief Performance is recognized worldwide and has had coverage in industry magazines including "OFFSHORE", "POWERBOAT", "HOT BOAT" and "THE MARINE POWER DIRECTORY". Tom Hofstetter, owner, designer and builder of Chief Performance, has captured 4 World Champion flags through his career and involvement with race teams such as "Team USA" - sponsored with Don Johnson, Revlon, "RAZZ"-41 Apache, "Little Caesar's Pizza"-47' Apache sponsored with Little Caesar's Pizza, "INXS"-47' Apache, "Flying Falcon"-41' Apache, "Miami Vice"-33' Powerplay, "Apache Heritage"-50 Apache, "Metal Man"-35' Jaguar Cat, "Budweiser"-40' Skater sponsored with Budweiser, "Megatoy"-40' Skater-pleasure for private use, "Damn Donzi"-27' Donzi sponsored with Stainless Marine, Donzi Marine and Chief Performance, "Red Baron"-32' Holland sponsored with Holland Boat Shop, and Chief Performance, "PowerChips Flyer"-47' Apache sponsored with PowerChips and Chief Performance, "Frayedknot Racing" 30' Infinity sponsored by Oceanside Marine, Nightmare Racing GN-113 sponsored by Greg Gluck/Speed Marine, Inc.
Hands-on experience is always the best involvement and our representatives travel to visit customers, service products, and make boaters happy throughout the continental United States, Mediterranean, Scandinavia, Caribbean and Canada. We thank all those mentioned above for the spirit and experience of power boating and look forward to another great season.